| Year | Student | Thesis | Degree | University | My role | What they did next |
| --- | --- | --- | --- | --- | --- | --- |
| 2011 | Paz Bluhm | Análisis de parámetros orbitales en el sistema variable cataclísmico GY Cancri | Licenciada en Física con mención en Astronomía | U. Católica del Norte | Director | Accepted in the Magíster en Ciencias mención Física, Universidad de Concepción. |
| 2011 | Juan Pablo Colque | Fotometría de alta precisión para el estudio de tránsitos de exoplanetas | Licenciado en Física con mención en Astronomía | U. Católica del Norte | Director | Took a position as Data Analyst at the Atacama Large Millimeter Array. |
| 2011 | David Crooker | Detección de falsos positivos en planetas extrasolares por análisis de color durante tránsitos | Licenciado en Física con mención en Astronomía | U. Católica del Norte | Director | Accepted in the Magíster en Ciencias, mención Astronomía, Universidad de Chile. |
| 2009 | Penélope Longa | Imaging indirecto de una muestra de estrellas variables cataclísmicas | Magíster en Física con mención en Astronomía | U. Católica del Norte | Director | Accepted in the PhD in Astronomy at The University of Warwick. |
| 2009 | Felipe Beiza | Eficacia del Observatorio Sirius | Licenciado en Física con mención en Astronomía | U. Católica del Norte | Director | Took a position as lecturer at Universidad de Antofagasta. |
| 2008 | Penélope Longa | Parámetros orbitales de la nova enana V1040 Cen | Licenciada en Física con mención en Astronomía | U. Católica del Norte | Director | |
More on their work
2010-2011 Paz Bluhm, undergraduate thesis, "Análisis de parámetros orbitales en el sistema variable cataclísmico GY Cancri". Paz analyzed a series of spectra from a cataclysmic variable star, carrying out measurements of radial velocities to compute the orbital period and other basic parameters of the system.
2010-2011 Juan Pablo Colque, undergraduate thesis, "Fotometría de alta precisión para el estudio de tránsitos de exoplanetas". Juan Pablo implemented the defocusing method to strongly improve the accuracy in lightcurves for transits of exoplanets obtained with the 84-cm telescope at OCA. Several software routines for data analysis were developed by Juan Pablo for his thesis work. In some cases these routines were used for scientific articles in which Juan Pablo became a coauthor.
2010-2011 David Crooker, undergraduate thesis, "Detección de falsos positivos en planetas extrasolares por análisis de color durante tránsitos". David carried out a theoretical work, designing a test that would allow one to differentiate an actual transit by an extrasolar planet from the eclipse of a binary system when that was not possible by known morphological analyses of the lightcurves. His test involves observation of the transit in two filters, and he showed that the method could be applied even in small-diameter telescopes (~40 cm).
2009 Felipe Beiza, undergraduate thesis, "Eficacia del Observatorio Sirius". Felipe studied the detectability of variations in the brightness of astronomical objects for a range of magnitudes and exposure times, using the recently opened "Observatorio Sirius" at Universidad Católica del Norte. Felipe produced a matrix of S/N and another of magnitude uncertainties for the studied range.
2007-2008: Penélope Longa, undergraduate thesis, "Parámetros orbitales de la nova enana V1040 Cen". This has been a scarcely studied object, for which we obtained an excellent dataset using UVES at the UT-2 in Cerro Paranal (February 2007). We aimed to refine the orbital period, for which only a preliminary estimation based on photometry had been published by Patterson. We also estimated the value of K1 and produced a general characterization of the system, constraining the value of its orbital parameters.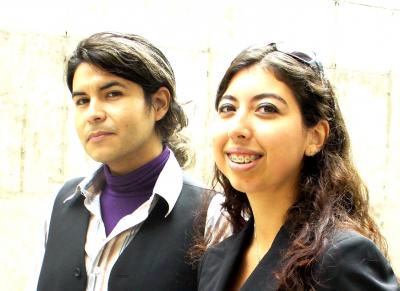 Penélope gave her viva on April 14, 2008 and she is now a "licenciada". In the image the "Cataclysmic Team" 🙂
2005-01: My PhD thesis.
This was patiently supervised by Tom Marsh at University of Southampton. Click here to get a PDF copy.
1999-09: My MSc thesis.
This was supervised by Ronald Mennickent at Universidad de Concepción (Chile).